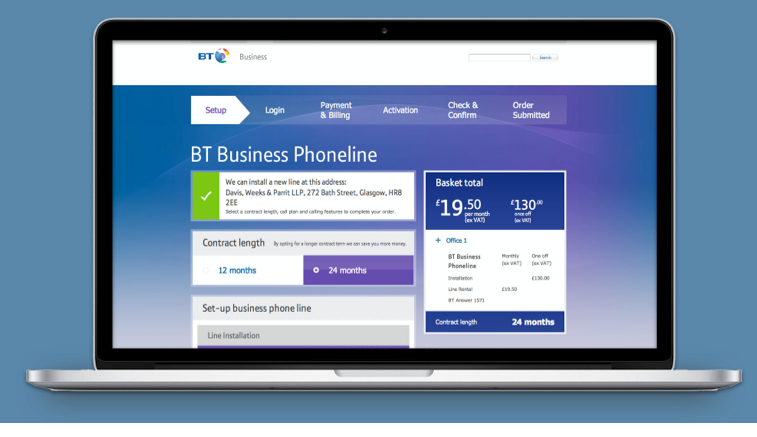 Overview
A  project by BT to redesign and automate their business products and services into online self service e-commerce journeys which were previously processed manually by a call centre agent.
BT had invested heavily in new call centre agent desktop software, and it was their initial plan to base the online solution on the functionality provideded by this system.
We were responsible for the end-to-end user experience of the e-commerce journeys, which involved taking the functionality already provided by agent software and translating it into a suitable customer friendly solution, based on the BT Corporate style guide.
We worked within a remote team to gain a considerable understanding of the complex systems, processes and scenarios necessary for each type of order journey, and then translating them into user-friendly high fidelity prototypes.
I also worked with front-end developers to deliver the standards based finished HTML for each journey. Javascript prototypes of order journeys were created and then user tested by an external agency. Based on feedback from user-testing iterative improvements were made to subsequent designs.
Services
Business Analysis
Low & High Fidelity Wireframes
Prototypes
Usability Studies
Tools
AxureRP
Invision
Client
UI Centric for BT Plc

Date
2012