Sky
CUSTOMER MANAGEMENT PLATFORM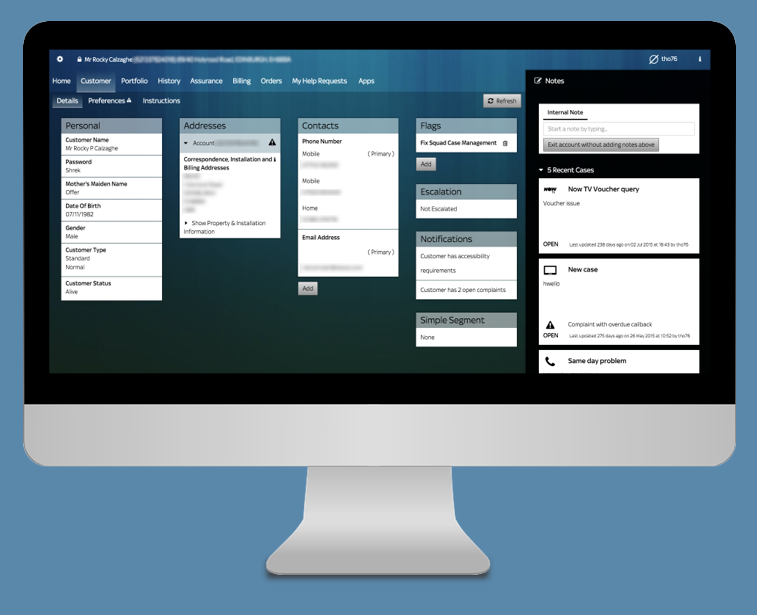 Overview
A project to replace Sky's old Java based Chordiant contact centre Customer Relationship Managament platform with a modern responsive web application. 'Stan' as it became known is now the platform used by over 10,000 contact centre staff to serve Sky's 10 million customers.
Working within an agile project team of UX, UI, front-end and system developers, the programme went from first cutting code to roll-out within 2 years.
From a user experience point of view a fantastic project as we had access to a huge user base, making research and testing much easier than most projects! The user feedback on the finished system was excellent and  proves the importance of user centred design, and the value of ongoing user involvement.
We were responsible for conducting user research to establish use cases, common journeys, current difficulties and then translate these into wireframes and prototypes which would then be passed to a UI designer and the front end dev team. We also conducted ongoing feedback sessions with stakeholders and the users to ensure that the design were useful, and ongoing usability studies to ensure designs were useable.
Services
Lean UX
User Research
Low & High Fidelity Wireframes
Prototypes
Usability Studies
Tools
Sketch
AxureRP
Invision
Client
Sky Plc

Date
2013-2016